HP7.2 came out on dvd yesterday. Naturally, we had a viewing party tonight. We started 7.1 just after 4 with some pizza in hand, velvet posters abounding, and drinks at the ready. We paused for some dessert pizza and then put in the second one, which we actually paid attention to. After some shots, of course. (That liquor set I wanted to buy with my magic $20? It is DELICIOUS. Passion fruit. And we put Sprite in the other half of the shot glass. It tasted like... like DELICIOUS.)
Harry Potter is SO. GOOD. I'm so glad I'm already in the process of rereading the books. SO. GOOD.
I also got this today.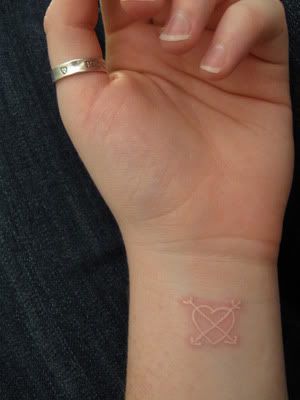 I never know how to properly go about explaining this, so bear with me here. Shakespeare left money in his will to some friends to buy remembrance rings. A ring was found in the ashes of the Rose Theatre that has the saying "Pences pour moye du," which means "Think of me, god willing," and a heart with two arrows through it. It's the type of ring Shakespeare meant his friends to get. They sell replicas of this ring at the Shakespeare birthplace museum; in this picture, I'm wearing the one I bought in 2005 during my visit to Stratford-upon-Avon with my sister. So, Shakespeare, England, remembrance, etc. It means a lot of things. And I love it.
The guys at the tattoo place tried to talk me out of doing it in white, but luckily Jess has my back and didn't let that happen. I've been thinking about getting this design, in white, since sometime last December. Yesterday, I very suddenly decided that I wanted it immediately. So today, we went, and I got it. Aron held my hand, but I didn't even need to squeeze it. It hurt, but not as badly as I expected. It looked strange, but I watched the whole time.
In sum...Harry Potter parties are always awesome.